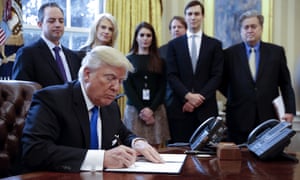 Two weeks in, the new administration resembles the court of a Renaissance king, with favorites infighting and Steve Bannon a Cardinal Richelieu in cargo pants
After 15 days of chaotic activity when he made heads spin around the world, President Donald Trump flew from Washington on Friday for the Florida mansion he calls the Winter White House, leaving behind a faintly traumatised US capital.
The exhausting first two weeks of the Trump presidency were bookended by an obsessive fixation with his inaugural crowd size and his use of a usually solemn speech at the national prayer breakfast to continue a feud with Arnold Schwarzenegger over ratings for The Apprentice.
At the center of it all has been a cast of characters jockeying for Trump's ear, creating a struggle for power that has manifested in a mix of chaos, leaks and uncertainty.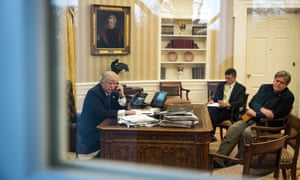 The Trump White House already bears more resemblance to the court of a Renaissance king than to most prior administrations as favorites come and go, counselors quarrel over favor and policy decisions are often made by whim or without consultation.
Source: Trump's courtiers bring chaotic and capricious style to White House | US news | The Guardian